Kia Ora (greetings), and welcome to Majestic Quartz! We have 20 years online experience selling the finest mineral specimens, quartz varieties and polished crystals. Click on the tabs above to find out more about "our story", "our ethics" and how to find the perfect crystal for you and your friends!
Using The Menu System
At the top of the page, you will find our site menu. Hover your mouse over the "Shop For Crystals" and the crystal sections will drop down complete with helpful images representing each section. Hovering your mouse over parent sections will reveal subsections to help you zero in on what you are looking for. For example – Hovering over "Cut & Polished" will reveal all its subsections such as "Wands", "Spheres", "Carvings" and so on. Simply click on the subsection photo to go to its page!
Using the "Search" Function
On the main menu bar, you will see a little magnifying glass symbol. Click on it and start typing in the search field the name of the crystal you are looking for, then press your enter key – or click the orange "Search" button. Chances are the predictive search text will come up with what you are looking for, so as the suggestion comes up – simply click on that and press your enter key! You will be presented with all the crystals we have of that type on one page.
Use Our Search Filters
Our site uses a filter system that helps you zero in on the crystals you are looking for.
Filters are available when you view the shop. You can do this by clicking on the menu item 'Shop for crystals and minerals' or selecting any crystal category.
The filters are presented on the left hand side of the site. Selecting an option from a filter section sorts the crystals in view on the right.
The crystals presented change to match the filtered selection straight away. No need to push any other buttons to make this happen!
You can remove any selected filters by clicking the circled x next to the filter title.
The filter categories we currently have in place are listed below.
Sort By Color
Sort By Price
Sort By Shape
Sort By Chakra
Sort By Natural Formation
Sort By Country
Check Out the screenshot below showing examples of the filters.
Just as we are committed to providing the highest standards in crystals, we are also totally committed to maintaining a high standard of ethics by providing true and accurate information to the crystal community.
Accurate Crystal Descriptions:
The crystal World, particularly on the internet has always been a minefield of misinformation and misrepresentation – especially for those on the path of learning and exploration.
Here at Majestic Quartz we believe in calling a spade a spade! Though in our case, a Lemurian seed – a Lemurian Seed! A crystal needs to display arch typical traits and identifiers, in order for us to assign a "Name/Title" to it. So rest assured – If we have labeled a crystal a Record Keeper, you will find triangles on it. If we have called a crystal an enhydro, you will receive that crystal with a small sticker pointing right to the moving water bubble! We cannot emphasize enough how important providing accurate names, titles and general information is to us!
Providing information is so important to us, that we have created an entire website dedicated to crystal information – unsurprisingly it is called www.crystal-information.com! Each crystal we have for sale on Majestic Quartz has its own "Healing Properties" tab assigned to it. Within that tab – metaphysical information is provided regarding that crystal type. At the bottom of each healing properties tab is a link to further information regarding that crystal on our encyclopedia website www.crystal-information.com.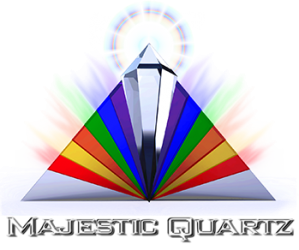 Majestic Quartz Crystal Sales Website
The site to meet all your crystal purchasing needs!