Greetings from Arkansas, USA and welcome to Majestic Quartz! We have 20 years online experience selling the finest mineral specimens, quartz varieties and polished crystals to locations all over the World. Please find our extensive help section found on the menu under "Help". There you will find out all about the many features our site offers and how to find the perfect crystal for you and your friends! We have moved from New Zealand to Arkansas, USA for one year!
Staci S
My first time purchasing from this site as I was searching to buy a New Zealand crystal, I came across Majestic Quartz and it seemed perfect for me! I live in NZ but never have been able to find a crystal dug from my own home and I finally am happy to say I have one now thanks to Majestic Quartz! It is absolutely BEAUTIFUL! Not only that but it came very fast and also communication from the team was excellent - would definitely purchase plenty more crystal gems from this site thank you again so very much!!
Susan
This was my first order and I couldn't be more pleased. The stones are beautiful and the shipping was super fast. I will definitely be shopping here again.
Ramon Parareda
Hello Anthony, Today I have received the orange citrine elestial. It's just fantastic. I cannot get my hands off of it and cannot stop looking at all the faces, edges, color..etc. Thank you very much. I also want to thank you for giving me the chance to get some crystals that otherwise i doubt i would have ever found them, not just for the prices but also because here they are not available.Thank you again Best regards, Ramon Parareda
SHARI HRABEC – Smoky Quartz With Mica
First, the best customer service anywhere!!! I have shopped here for years and I will tell you that you won't find such quality, unique and beautiful crystals anywhere. I tend to collect their elestials as all are fabulous, but one in particular, a large mica covered beauty is the ultimate stand out in my home, and once again you would not find this anywhere else. Prices are decent to low, and to the states it is usually only 9-12 days for delivery. Never had a broken one either!! Thank you Anthony and family for all you do.
Alan Palermo – Golden Hour Minerals
We have done business with Majestic Quartz for many years. I'm always impressed with quality and pricing. I can always count on specimens being nicer than their excellent photography. The owner is fair and honest. That combined with quality keeps us at
goldenhourminerals.com
keeps us coming back. Alan at Golden Hour Minerals
Kat – USA – Epidote Included Quartz Cluster
Hi Majestic Team, You have the most amazing crystals and stones. Almost all of my "Wow" pieces have come from you! I look forward to many happy years shopping with Majestic Quartz!
Kathie Armstrong – USA – Tri-Color Elestial
The crystals and stones I received from you are nothing short of spectacular! Sadly, about 75% of the time when I order stones online, I'm at least a little (and occasionally a lot) disappointed in what I get. Every single piece I bought from you is indescribably beautiful. I would say they are exactly as pictured, but even though your pictures are excellent, they can't really do these stones justice. I am beyond pleased, and I look forward to many years doing business with you in the future. In particular, the Tri-color Elestial I bought is one of the most amazing things I've ever laid eyes on. There is no way any photographs or descriptions could come close to this piece - you have to hold it and look at it closely and run your hand over those incredible patterns. I'll never tire of looking at it. I just placed another order for two more pieces I had been drooling over. Thanks for having such incredible stones and crystals! And for selling them at an affordable price. I don't think I'll order from anyone else again.....
Cynthia A – USA – Tourmanated Quartz
Hi Anthony, the crystals arrived yesterday and once again they are amazing!  I especially liked the rainbows in the tourmanated quartz. 
Cynthia A – USA – Polished Blue Angel Feathers Citrine
Hi Anthony, I always love getting stones from you because they are so much prettier than they look on the website, and they look amazing on the website!!  The galena with the rosettes is stunning.  I am waiting to get home to see the angel wings.
Cindy – USA – Galena With Quartz Cluster
I just wanted to let you know I got the crystals and they are beautiful!!  I especially liked the galena and laser wand piece.  (and they arrived all in one piece despite the fact that one corner of the box was completely smashed in.  good thing for bubble wrap..)
Kathy Ball – USA – Chlorite Phantom Quartz
I just wanted to say hi and offer a huge thanks for the last shipment of rocks. I'm always so excited to get the box from Majestic and I revel in how much better the crystals look in person versus the pictures. The floater elestial was awesome and so unbelievably shiny. It seems like it is almost not of this world. The white milky DT quartz seemed so gentle as did the chlorite phantom. I've kind of got a thing for the chlorite phantoms.
Jack Berenstein – USA – Cathedral Quartz
My name is Jack I live in southern California, many thousands of miles away from Majestic Crystals.The first Purchase I made was hard for me, I never bought anything over the Internet, let alone so far away. After about 6 e-mail's back and forth with Anthony ( one of the owners) of Majestic crystals, I was convinced that they were a legitimate company and had all the crystals that I really liked and could not find else where..After the first purchase a large elestial and a large cathedral, I was very surprised. I found the quality to be excellent, much nicer then the picture could depict.Since then I have bought over thirty pieces from them and could not be any happier. It takes only about a week for the shipment, and the incredible crystals arrive at my door. So you have nothing to lose by ordering. The service is excellent, the crystals are awesome, and the price can't be beat anywhere. You will be happy you did, I know I am.
New Items Added To The Site!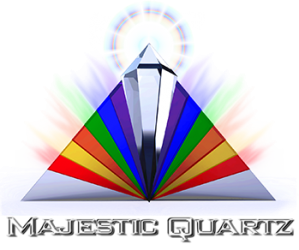 Majestic Quartz Crystal Sales Website
The site to meet all your crystal purchasing needs!